Good Afternoon everybody, I have had a very UN-productive day today.. I was even a little down in the dumps.. so I turned back to my computer and all of you wonderful Bloggers and all of my internet "friends"and I have been picked up and dusted off. So thank you everyone.. Now on to .....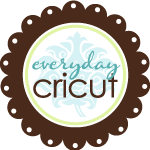 They are giving away an E2 on their Blog, how EXCITING is that? So for all of you who really want to try and WIN the New Cricut E2 Birthday Edition here is your chance.. You have several opportunities to win, with multiple entries..
Check the very talented ladies over there out..
Everyday Cricut